RPG Asset Character 'Kung Fu Man' SMS
A downloadable asset pack
Revenge is normally the narrative for 'Kung Fu' related titles. But maybe your adventure has something else in mind? Perhaps its to recover an ancient artefact? Up to you!
Free Version has 11 animations in 4 directions:
IDLE, WALK, RUN,, PUSH, ATTACK (X3), CLIMB, DEATH, HIT, JUMP & AVATAR.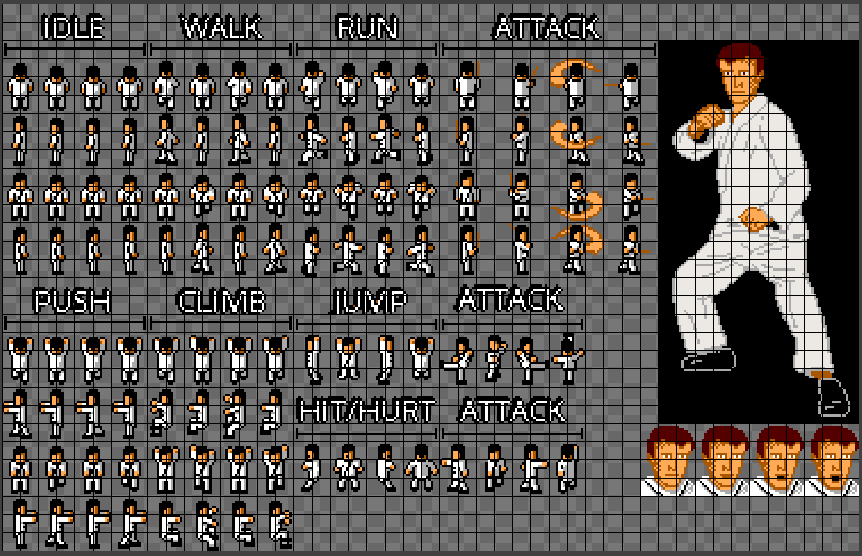 Premium Version has a massive 30+ animations in 8 directions.
IDLE, BLOCK, CARRY RUN, CARRY WALK, CLIMB, CRAWL, DEATH, DOUBLE ARM PICK UP, DOUBLE ARM SHOOT (+custom), DOUBLE ARM THROW, FALL, FATIGUE, FLEE, HIT, IDLE, INJURED, JUMP, LEDGE, PICK UP , PISTOL WHIP, PULL, PULLEY, PUSH, ROPE CLIMB, RUN, SHIMMEY, SINGLE ARM SHOOT, SINGLE ARM THROW, SWIM, SWING, WALK, WALK ROPE, WATER IDLE.
PLUS: Avatar animations:
TALK, SURPRISE, LAUGH, ANGRY TALK, BLINK & Title Screen image.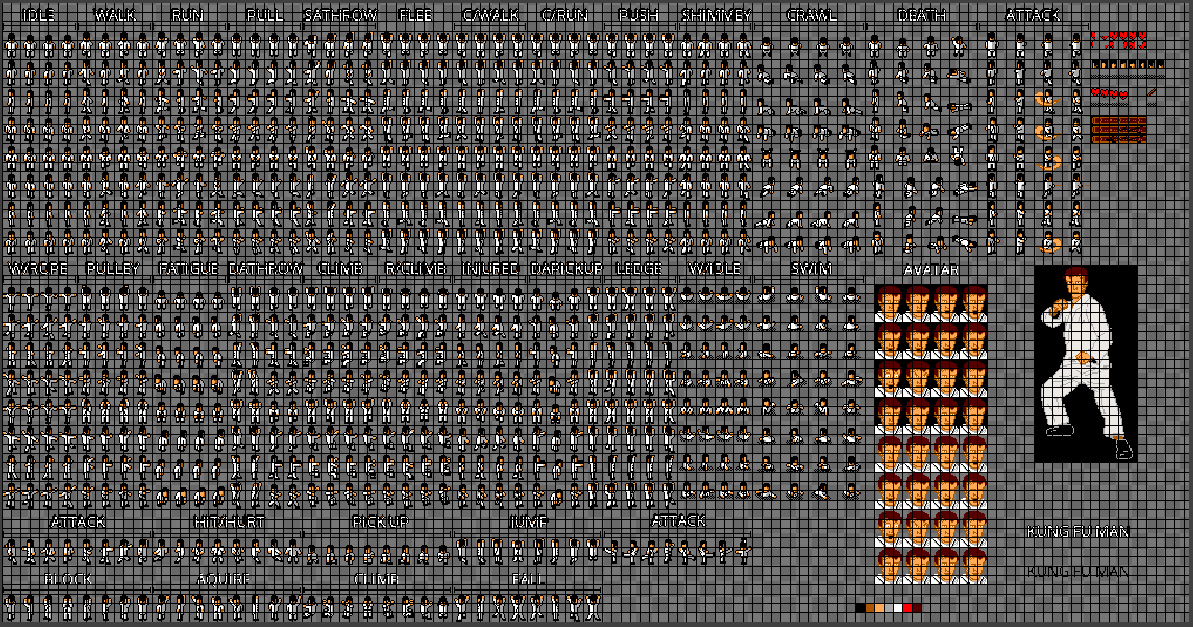 Each animation has been separated into there own sprite sheets and strips.
These assets have been created using a Master System colour palette and keep within the limitations of a Master System so you can create a genuine looking retro game.
If you like my asset creations then please consider supporting my work by Sharing/ Liking/Following and Rating. Or consider supporting me on Patreon where you will have access to any of my premium content for FREE. (just $1 a month)
https://www.patreon.com/Chasersgaming
Thanks and Enjoy! :)
Download
Click download now to get access to the following files:
SMS Kung Fu Man 4way Files.zip
44 kB
SMS Kung Fu Man 8way Files.zip
290 kB
if you pay £2 GBP or more