Brawler Character Asset 'Ranger' SMS
A downloadable asset pack
An exiled civillian?, a dismissed veteran?, a random wonderer that travels through lands? Who knows what his past time history is or was. Maybe your adventure can right the wrongs that could plague his thoughts. He is only known as the Ranger.
Free version has approx 20 animations, plus a title screen image, icons for health and a knife for pick ups and maybe create your own knife animations to add to existing frames.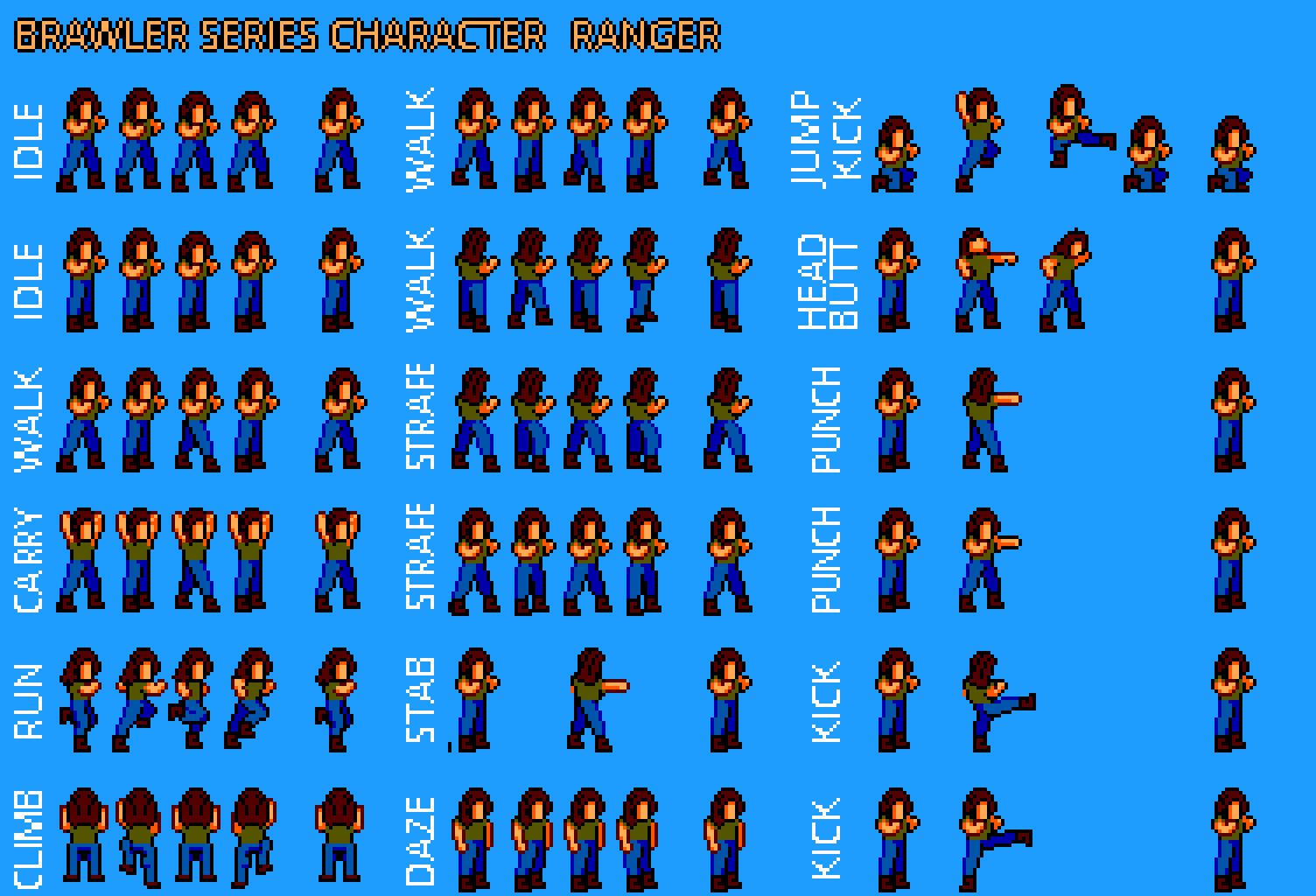 Or for just $2 you could grab the Premuim version of this asset which includes what the free version offers plus much more, such as Knife weapon animations, Bat weapon animations & Sword weapon animations and a few more which takes the total of the animations available to a whooping 60+ animations.
As well as the sprite sheet, each animation has been individually exported into their own strips for easier importing.
These assets have been created using a colour palette of a sega master system so you can create a genuine retro looking title.
if you like the assets i create, please support by sharing, following & liking my creations or consider supporting me on Patreon.
https://www.patreon.com/Chasersgaming
Thanks enjoy! :)
Tile Set featured in screen shots can be found here:
Download
Click download now to get access to the following files:
SMS Ranger Free Files.zip
35 kB
SMS Ranger Full Files.zip
124 kB
if you pay £2 GBP or more
Comments
Log in with itch.io to leave a comment.
if i pay patrón can I obtain this assets?
yes, ALL assets I have created will be available for the respected tier. Although it's all a bit of a mess to find stuff on Patreon if I'm honest. it's all better organised on my Discord(I think). Patreon pledges will give you access to the relevant Discord channel, :)
will you be making more henchman type characters for the beat em up packs?
Yes. :) Im just planning things at the moment, but i will start releasing more brawler assets in the near future.
awesome! Do you happen to do commissions? And if so May i contact you via email about it?
ive done the occasional commission. I don't always ahve the time, but you can email me if you want and il see what i can do. :)
Your character's packs are really great!