Brawler Asset Tile Set 'Market Street' NES
A downloadable asset pack
The Streets are filled with Thugs and Hooligans. Some out for there own gain, some maybe hired to keep your player at bay from reaching his destination. Save your girlfriend? Save the presidents daughter? or maybe you just want to kick some ass! Hopefully this Tile Set will work nicely as a location for your project. :)
Inspired by games such as 'Double Dragon' and 'Streets of Rage' all brought to you in my usual 8bit fashion!
These assets have been created using a NES colour palette and keep within the limitations of a NES so you can create a genuine looking retro game.
Sheets available in the download can be tiled 8x8, 16x16 in 128x128 canvas, or a full sprite sheet.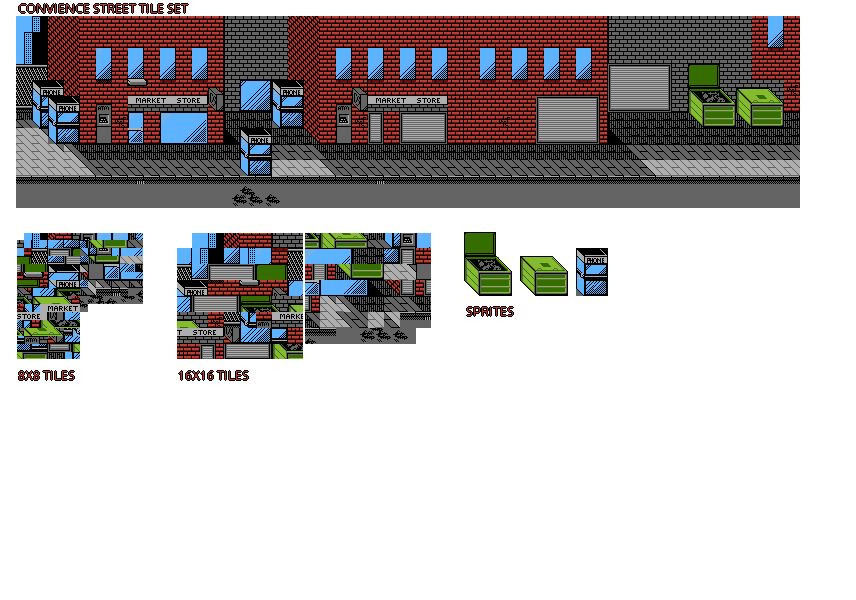 If you like my asset creations then please consider supporting my work by Sharing/ Liking/Following and Rating. Or consider supporting me on Patreon where you will have access to any of my premium content for FREE. (just $1 a month)
https://www.patreon.com/Chasersgaming
Thanks and Enjoy! :)
Character featured:
Download
Click download now to get access to the following files:
NES MArket Street Tile Set Files.zip
40 kB