Asset Pack 'Spy Fighter' SMS
A downloadable asset pack
This Top down Shooter has been inspired by retro titles such as 'Action Fighter' & 'Spy Hunter'.
A comprehensive asset pack containing all the things needed to create a vertical scrolling shooting game, or even a racing title if you wish.
Car Sprites, Boats, Helicopters and Enemy Vehicles are included as well as three themed locations, London, New York and Tokyo so you can have levels with variation.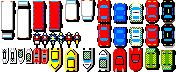 This asset also has been designed keeping within the limitations of a Sega Master System and it's colour palette to give you a genuine looking retro 8 bit project.
In the Download File:
* London Themed Vehicles
* London Tile Set (8x8 tilemap, 16x16 tilemap & full PNG)
* New York Themed Vehicles
* New York Tile Set (8x8 tilemap, 16x16 tilemap & full PNG)
* Tokyo Themed Vehicles
* Toyko Tile Set (8x8 tilemap, 16x16 tilemap & full PNG)
* In game Sprites & Animations (Explosion, Water splash, cone, signs, Bullets)
* Enemy Vehicles Sprite Sheet
* Enemy Boss Helicopter Sprite Sheet
* Enemy Boss Submarine Sprite Sheet
* Enemy Car Sprite Sheet
* Enemy Tank Sprite Sheet
* 8x8 Font (used for in game text or in game collectable)
* Player Vehicle (car, boat, aircraft)
* Title Screen Elements (Agent, Car 'Spy Fighter' text.)
PUBLIC DOMAIN LICENSE: Your free to use this asset for commercial and non commercial projects without the need to credit (although its appreciated)
NES Version available here: (awaiting upload)
Gameboy Version available here: (awaiting upload)

If you like my asset creations then please consider supporting my work by Sharing/ Liking/Following and Rating. Or consider supporting me on Patreon where you will have access to any of my premium content for FREE. (just $1 a month)
https://www.patreon.com/Chasersgaming

Thanks and Enjoy! :)
Purchase
In order to download this asset pack you must purchase it at or above the minimum price of $2 USD. You will get access to the following files:
SMS Asset Pack Spy Fighter.zip
141 kB