OGA 8BIT BRAWLERS (wip)
Made for the OpenGameArt 'Fall' Game Jam 2019!
Inspired and put together by the content created by the awesome community at OpenGameArt.org, and re-imagined to bring you a retro blast of 8 bit action reminiscent of the Sega Master System days (nearly) with a hint of influence from games such as 'Brawlhalla' and 'Street Fighter 2'
It's very early days for this project, So expect a bug or two, and it will need refining in many game play aspects, (only so much i could do in 4 weeks) but would very much like to continue on with this after the jam and add all the things i didn't get to do in this prototype demo and was a mad rush towards the end of the jam so comments and feedback is appreciated, and hope you enjoy what you see so far. :)
EDIT: i have just realised i have uploaded the wrong file. :( for what its worth heres how to play:
EDIT AGAIN: Correct file now loaded. :)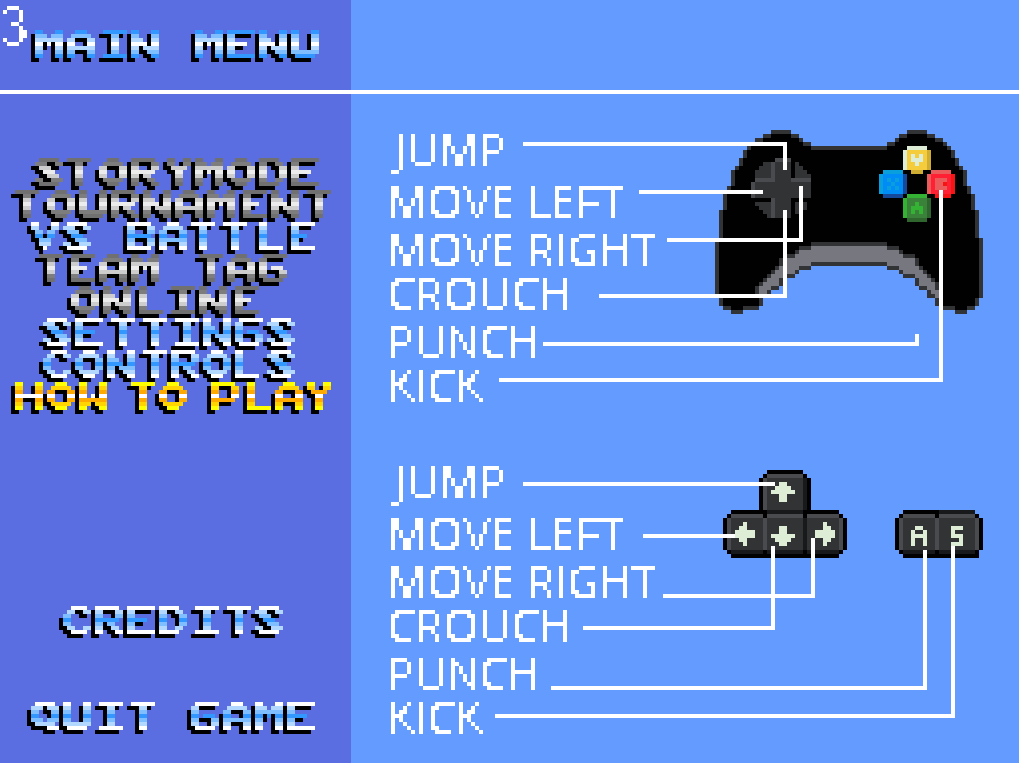 CREDITS: Assets used in this game so far.
TITLE: Roman Rescue Art

AUTHOR: With the Love
LICENSE:CC BY 4
LINK: https://opengameart.org/content/roman-rescue-run-pompeii-art-and-sound-pack
TITLE: Beast Soldier
AUTHOR: Surt
LICENSE:CC BY 4
LINK: https://opengameart.org/content/beast-soldier
TITLE: Tiny Tiles
AUTHOR: Villadragon
LICENSE:CC BY 3
LINK: https://opengameart.org/content/tiny-tiles
TITLE: Pixel Coin
AUTHOR: Truezip
LICENSE:CC0 Public Domain
LINK:https://opengameart.org/content/pixel-coins-asset
TITLE: Xbox PC Controls
AUTHOR: Keenjikun
LICENSE:CC0 Public Domain
LINK: https://opengameart.org/content/xbox-pc-controls
TITLE: Control Icons
AUTHOR: With the Love
LICENSE:CC0 Public Domain
LINK: https://opengameart.org/content/control-icons
TITLE: Fire Animation
AUTHOR: Foshytakashi
LICENSE:CC BY 3
LINK:https://opengameart.org/content/9-frame-fire-animation-16x-32x-64x
TITLE: Dragon Animation Sprite
AUTHOR: Nirdia Entertainment
LICENSE:CC BY SA 3
LINK: https://opengameart.org/content/dragon-animated-sprite
TITLE: Arcade Title 8bit
AUTHOR: Wyver9
LICENSE:CC BY 3
LINK: https://opengameart.org/content/arcade-title-8-bit-chiptune
TITLE: Boss Battle #6
AUTHOR: Nene
LICENSE: CC0 Public Domain
LINK: https://opengameart.org/content/arcade-title-8-bit-chiptune
TITLE: Boss Battle #3
AUTHOR: Nene
LICENSE: CC0 Public Domain
LINK: https://opengameart.org/content/boss-battle-3-8-bit-re-upload
TITLE: Boss Battle #2
AUTHOR: Nene
LICENSE: CC0 Public Domain
LINK: https://opengameart.org/content/boss-battle-2-8-bit-re-upload
TITLE: Kung Fu Hero
AUTHOR: Spring
LICENSE: OGA BY 3
LINK:https://opengameart.org/content/kung-fu-hero
TITLE: Boss Battle #5
AUTHOR: Nene
LICENSE: CC0 Public Domain
LINK: https://opengameart.org/content/boss-battle-5-8-bit
TITLE: 8 Bit Armada
AUTHOR: Jeffmatthew410
LICENSE: CC BY SA 4
LINK: https://opengameart.org/content/8-bit-armada
TITLE: Announcer Voice Pack
AUTHOR: Winte Walrus
LICENSE: CC BY 4
LINK: https://opengameart.org/content/announcer-voice-pack-general-phrases-ii-female
TITLE: NESSSFX
AUTHOR: Shiru
LICENSE: CC BY 4
LINK: https://opengameart.org/content/nes-8-bit-sound-effects
TITLE: Animated Banner
AUTHOR: ZomBCool
LICENSE: CC0 Public Domain
LINK: https://opengameart.org/content/ogaanimatedbanners-0
TITLE: 8Bit Alphabet
AUTHOR: Puddin
LICENSE: CC0 Public Domain
LINK: https://opengameart.org/content/8-bit-personalized-alphabet-only-letters
TITLE: Sonic Font
AUTHOR: asalga
LICENSE: OGA BY 3
LINK: https://opengameart.org/content/sonic-font